Do You Have A  Project We Can Help With?
Waste Motor Oil And Plastic Oil To Diesel Recycling Machine
Membrane Distillation System adopts a kind of simple structure, utilize high speed centrifugation to separate water content from waste oil, and thin film evaporator to get rid of light components. Realize oil gases dissociation via advanced membrane distillation system combining with continuously assistant heating source. By catalytic cracking under different temperature collects diesel oil fragments. It's high-efficiency to crack diesel or extract base oil from used black oil.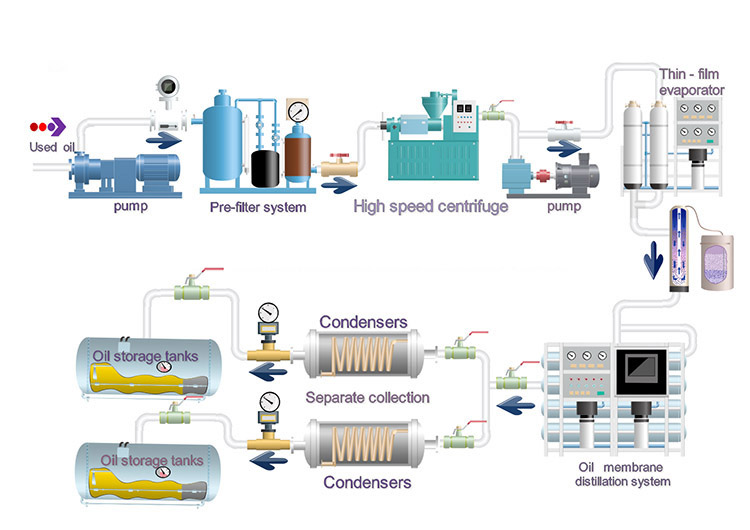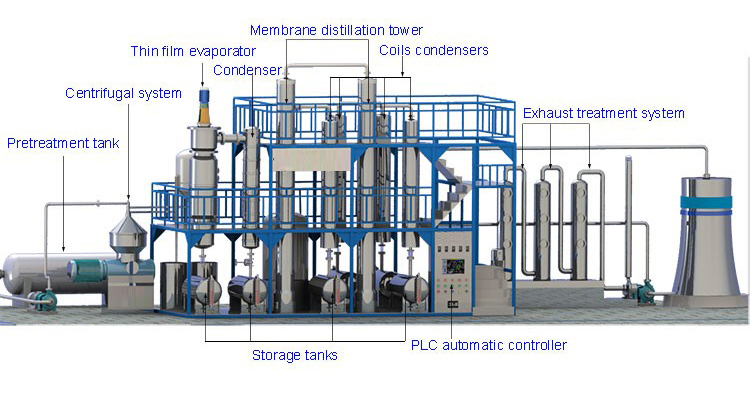 Model / Data
100L
200L
300L
400L
500L
600L
700L
800L
900L
Working capacity
100L/H
200L/H
300L/H
400L/H
500L/H
600L/H
700L/H
800L/H
900L/H
Fuel output range
3*10^5Kcal/h
3*10^5Kcal/h
3*10^5Kcal/h
4*10^5Kcal/h
4*10^5Kcal/h
6*10^5Kcal/h
8*10^5Kcal/h
12*10^5Kcal/h
20*10^5Kcal/h
Fuel consume
15-30kg/h
15-30kg/h
15-30kg/h
20-40kg/h
20-40kg/h
35-60kg/h
60-80kg/h
80-120kg/h
120-180kg/h
Fuel supply
Light diesel fuels/Kerosenen/Heavy fuel oil/Environmental oil/Waste lube oil for burning(Molten salt furnace available)
Vacuum degree
≤-0.05Mpa ~ 0.098Mpa
Oil Heat Temp
20℃ ~ 460℃
Voltage supply
380v/50hz, 3 phase(customized according to local power supply is available.)
Dimension
11m*3.5m*5.7m
12m*4m*6.2m
12m*4.5m*6.5m
13m*5m*6.8m
14m*5.5m*7m
15m*6m*7.5m
18m*6m*8m
20m*7m*10m
22m*9m*11m
Gross weight
9000Kg
10000Kg
12000Kg
13000Kg
15000Kg
22000Kg
38000Kg
45000Kg
65000Kg